Student Resources
The Career Center provides numerous opportunities for students to build career-related skills and connect with employers through career events. Students benefit from faculty encouragement to participate in these events. Faculty members also frequently attend career fairs to meet recruiters and stay current on employment trends.
The Career Center offers many workshops that can be hosted for your Student Organizations. If your student organization would like a workshop from the University Career Center fill out the form below, and we would be happy to help your Student Organization in you all's professional development endeavors.
To schedule a career event with one of our career counselors click HERE to submit an application for an event.
Check HERE with the Better Business Bureau to check on current scams that may be out there! Remember: if it's too good to be true, it probably is!
Here are some links you may find useful:
As a student, you may be curious about how all the different ways to gain additional hands-on and relevant professional experience before you graduate. There are a variety of ways a student can boost their resume, develop skills that employers want and gain need the experience to maximize the job search process. By participating in a variety of activities, you develop valuable knowledge and become more marketable to employers.  These experiences also help you to identify what you want to do and don't want to do. Experiential Learning encompasses a variety of activities: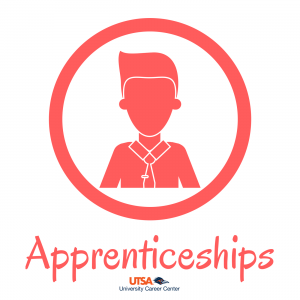 Apprenticeships – Apprenticeships provide students an opportunity to try out a job, usually with an experienced professional in the field to act as a mentor. Find out about more information regarding government apprenticeships by visiting the U.S. Department of Labor website.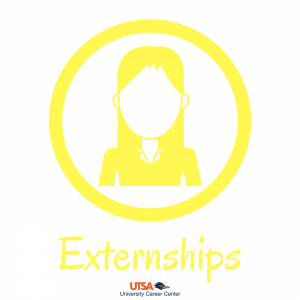 Externships – Externships lets you explore career by visiting with professionals in the workplace from 1-5 days. Activities may include: a tour of the workplace, attend site visits, observe day-to-day activities, meet with other members of the department, involvement in hands-on projects, attend department and client meetings, and receive an overview of the organization and workplace culture. You can also mention your externship on your résumé. Externships give you the ability to say that you have a solid educational background in your field and you've had hands-on experience. In a world where experience is increasingly important, this could help you tremendously during your job hunt. Contact the Career Center to learn about upcoming Externships.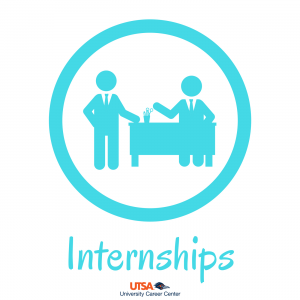 Internships – Provides real world experience and knowledge of employer expectations. Internships provide opportunities to experiment and pursue careers that match academic and personal interests. Visit Handshake to apply to all of the amazing internship opportunities. Click here to unlock more Internship Resources.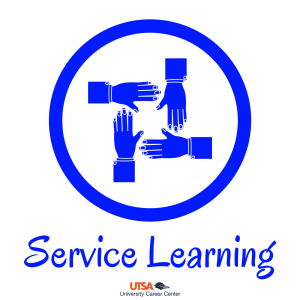 Service Learning – Service Learning is growing rapidly and is considered a part of experiential learning by its very nature of learning, performing a job within the community, and serious reflection by the student. Service Learning involves tackling some of society's complex issues such as homelessness, poverty, lack of quality education, pollution, etc. To participate in UTSA's service learning initiatives, get familiar with UTSA's Center of Civic Engagement.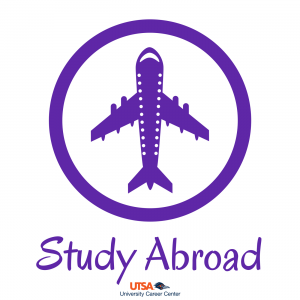 Study Abroad – Study abroad offers students a unique opportunity to learn about another culture, within the security of a host family and a host institution carefully chosen to allow the transfer of credit to a student's degree program. It also prepares you to live and work in a global society. UTSA Education Abroad Services can show you the value of studying abroad.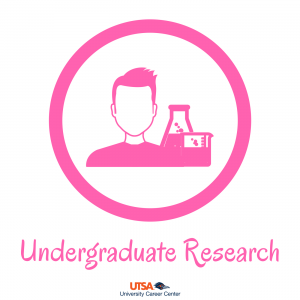 Undergraduate Research – Allows you to explore topics of interest, apply what you have learned in the classroom and develop problem-solving skills. The mission of the Office of Undergraduate Research O.U.R.) is to initiate a collaborative network of programs to engage and support undergraduate students' participation in research and scholarly activities in all areas of academic inquiry. Visit O.U.R to learn more about undergraduate research at UTSA.
Volunteering – Volunteering allows students to serve in a community primarily because they choose to do so. Volunteering is a Pathway to Employment: acquiring skills or knowledge as a volunteer and then putting them to use, may demonstrate higher levels of capacity, potentially making the volunteer more attractive to and productive for employers. Check out the Volunteer Services for more information on how you can get involved in volunteer activities at UTSA.
Clubs and Organizations – Develops your interpersonal and leadership skills as well as community and civic engagement and public speaking skills. Student organizations help strengthen leadership skills, build a bigger network, teach you time management, and build friendships. Employers want to see that you can balance work, life, and any other activities. The work you put in may feel useless right now, but it will pay off in the long run. To learn more about UTSA clubs and organization, visit Student Activities.
 As a Career Center, we are dedicated to providing students with the finest career attention needed to be successful in today's workforce.  Our services support all UTSA students in exploring, experiencing and achieving career paths. By visiting the University Career Center, students will get individualized assistance in identifying and participating in meaningful, hands-on, inquiry based experiences, gaining research skills, and transforming educational and work experiences to achieve goals.